Salaries and Benefits

Salaries depend on the school and your qualifications. Typically, from US$20,000 to US$95,000 for teaching positions; more for administrative jobs.
Money is probably the most misunderstood subject. Because the cost of living differs dramatically from country to country, a number alone does not mean very much: $1,000 in India equals $10,000 in Japan.
The real amount of your compensation is largely dependent on your benefits package: such as free airfare; tax free status, housing, utilities, free tuition for dependents, health insurance, travel options, professional development and so on.
Because domestic contracts never include housing / tax fee income, new candidates assume they will be responsible for all of their living expenses. So they focus exclusively on the "salary" instead of looking at the entire package.
In other words: don't confuse salaries with packages. A high salary in an expensive country without benefits is a worse offer than a lower amount with full benefits.
Inquire about the school's package, not just a salary!


For example, when we taught in Bulgaria, the cost of living was very low. The school paid a typical US salary, which was excessive by the local standards!
The next job was in Japan (2009-2011), and the situation changed completely.
As it turned out, Japan was expensive. On the positive side, we were paid in the Yen. As the US dollar had been sinking against all major currencies, the Japanese salaries looked more attractive every month.
In other words, if you are careful you can benefit from the differences in currencies and the cost of living.
How do the schools offer "tax-free" salaries?
Technically, all US citizens must pay taxes while abroad but as long as you make under the cap you owe no tax. (US$89,000 per person in 2012; the Congress increases it every year).
If your salary is under US$90,000 you do not owe any tax to the IRS, hence "tax-free". Obviously, it does not exclude local taxes. Local taxes can be minimal, and in many cases your school picks up the tab. More often, though, the first 2 years there is no tax at all or it is fairly low.
Once you overextend your tax-free period, many countries require that you start paying the social security tax. It reduces your income substantially. This is an additional incentive for teachers to move.
In spite of that, the quality of life is often so high that you may stay anyway. In Japan, for example, many our teachers have stayed for 10 years and more. Below is a sample of the current salaries.
SAMPLE: HKA Salaries (Hong Kong)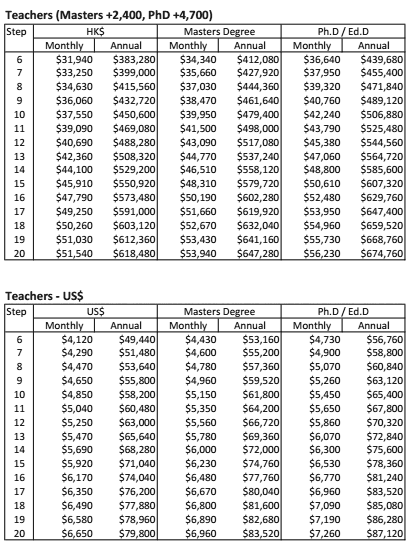 Contract Package: NLCS Jeju - South Korea

• Fully furnished accommodation close to the school site (option to live in Jeju City)

• Annual return flights to country of residence for you and your family (currently paid in cash for direct flight) as well as flights at the beginning (arranged by employer)and completion of your contract

• Private medical coverage for expatriate teacher and dependents

• MacBook for use with interactive whiteboards that are situated in every classroom

• Tax incentives up to 100% tax paid for first two years of contract if your country of origin has double taxation agreement with Korea (for teachers who have not previously worked in South Korea). 75% of tax paid after second year of contract. If an employee is entitled to an exemption from Korean income tax to receive this benefit on arrival in Korea they must provide a Certificate of Residency from their home country.

• Free meals during term time for spouses and children of boarding staff

• Utilities paid in full for boarding staff

• Two year initial contract with one year renewable for extension of contract

• Severance pay at end of contract in line with Korean Labour law currently one month pay for every year of completed contract

• School facilities for teacher and family use that include fitness suite, swimming pool and squash courts

• Free places at the school for employees' children (2 free, 3rd 50%)


The British School in Tokyo Recruitment FAQs
Do you cover interview travel expenses?
Yes, if you incur travel costs please let your interviewer know and they will pass you an expenses reimbursement form – please return to BST with receipts.
What does the school benefits package cover?
The benefits package for teachers, in addition to salary, is as follows:
• Additional 5% of salary as a pension contribution
• Subsidised accommodation
• Annual home leave flight
• Relocation flight and shipping to and from Japan
• Health insurance
• PC purchase allowance
• Daily commuting allowance
• Subsidised places at BST for dependent children
What does the school cover in terms of relocation?
We provide a single economy class air ticket from the UK (or where you are recruited from) to Japan when you join and also a single economy class ticket back to the UK when you leave – this is for teachers and dependent family members.
We also provide a generous relocation allowance for belongings based on a volume shipment from your point of recruitment to Japan and back again. The volume differs for single teachers and families.
Vienna International School - Austria; SALARY SCALES (teachers)
| | |
| --- | --- |
| Years of experience | Annual Gross, Euro |
| | |
| 3-5 | €58.116,00 |
| 6-7 | €58.116,00 |
| 8-9 | €61.218,00 |
| 10-11 | €64.320,00 |
| 12-13 | €67.422,00 |
| 14-15 | €70.525,00 |
| 16-17 | €73.627,00 |
| 18-19 | €76.729,00 |
| 20-21 | €79.831,00 |
| 22-23 | €82.933,00 |
| 24-25 | €86.035,00 |
Salaries are paid 14 times in a full school year
(rates above for 2012/13 school year)
RELOCATION EXPENSES
Only full-time teachers recruited outside Austria, will receive an
installation allowance upon arrival in Vienna. The teacher will
receive an initial housing subsidy of €1000. An optional interest-free
loan of up to €4,400 is also available, to be repaid by a maximum of
10 installments within the first year of employment.
Allowances, medical, visas etc. (click)
The American School in Japan, excerpts:
Starting Salary
The starting base salary for new teachers is ¥6,672,000 or US$70,232 at the current exchange rate of ¥95 = US$1
Allowances
An annual Housing Allowance of ¥1,730,000 to ¥2,804,000 is paid depending on family size and marital status. A one-time Relocation Allowance of ¥400,000 is paid upon arrival.
Transportation & Baggage
Initial travel is provided for a foreign-hire teacher and accompanying dependents from home-of-record to Tokyo.
Shipment of household goods is provided for foreign-hire teachers at the beginning of employment in the amount of 1,000 pounds per full-time teacher, 750 pounds for a non-teaching spouse and 250 pounds for up to two children.
Medical Benefits
Hospital and major medical coverage is provided as of August 1 with all premiums paid by the school. The policy has a $1,600 deductible.
Long-term disability insurance is also provided by the school.
Retirement
The school provides a retirement plan and contributes 8% of base salary in each of the first three years, 10% in years 4-7 and 13% thereafter. The retirement age at ASIJ is 65 years old.
Housing Assistance
In addition to the Housing Allowance above, the school provides assistance in locating and contracting housing near the school.
Leave
Sick Leave (10 days/year, may accumulate up to a max. of 60 days)
Professional Development Leave
Personal Leave (2 days, may accumulate up to a max. of 5 days)
Leave of Absence / Maternity Leave / Terminal Illness / Bereavement Leave
Passport, Visas & Taxes
Teachers and accompanying dependents must have passports which are valid for at least a year from the date of arrival in Japan from their native country. A Japanese visa will be required, but obtaining one, with the school's assistance, is usually a rather simple task.
Teachers are liable for Japanese national and local taxes on income earned in Japan. In general, teachers working in Japan pay a lower percentage of tax than they would if working in the US for comparable pay.
US tax law effectively excludes up to $97,600 of the ASIJ salary from 2013 US taxation.


US tax law excludes $99,500 of your foreign income