For Job Seekers
Top-rate international schools competitive. Yet, the world is full of dull, mediocre applications. Do you feel like your job search makes no traction?
Congratulations, you made the connection! This Guide is for serious candidates who are not afraid of new ideas. Combined with our exclusive know-how, it's your personal input that generates the continuos success narrative of this website.
Are you ready?
The Insider Secrets to Finding a Teaching Job Overseas

2/3 of candidates don't get what they deserve.
We blame that on ruthless competition, picky employers, and scarce resources.
WRONG.
This program is about joining those who know how to get the contract.
"This is the true joy of life, the being used up for a purpose recognized by yourself as a mighty one; being a force of nature instead of a feverish, selfish little clod of ailments and grievances, complaining that the world will not devote itself to making you happy." —George Bernard Shaw, The Man and Superman
ARE YOU READY?
Step 1: Understanding Your Goals
Even though you must be tempted to jump directly to the employment chapters we urge you to read this part very carefully. Establishing preferences will help you determine the most effective recruitment strategies.
You can't have everything at the same time – you must prioritize. For example, those who simply want a change for a year or two need not apply for highly competitive jobs with prestigious schools. These jobs won't let you relax.
People who plan to save money should stay away from expensive countries and so on. You need to know what matters to you most to make a decision you won't regret.

I want to teach overseas because I am interested in:
Cultural enrichment

Professional growth

Money, financial security

New relationships

Revitalizing my Life (feeling burned out, bored)

Special Interests (spiritual search, adoption, art, cuisine)

Health concerns (lose weight, kick bad habits)
In most cases people have more or less most of these reasons. Your goals will also change over time. For example, a friend of ours went to Greece out of curiosity. He soon discovered great career and financial opportunities; and after a few years in Greece moved to Saudi Arabia. His house in Florida is vacant most of the year.
Another friend started out as a teacher in a small town in Ontario, Canada, with little or no opportunities for growth. After a few years of highly successful overseas experience she is now director of a big international school. Her Facebook page indicates 52 countries that she has visited!
Handling Changes
A person who went abroad in search of independence and financial security may get married and focus on her family as a result. Those who went overseas primarily pursuing exotic travel experiences often change their priorities as soon as the initial desire for experience is satisfied. A lot of people are highly successful professionally.
Prepare for Cultural Diversity
As an overseas teacher you have been given the opportunity to meet many different people from a variety of backgrounds. You will most likely be working with teachers Europe, North and Latin America, many Asian and African counties, not to mention the teachers of the host country. Most international schools hire teachers of various backgrounds. Your manner of teaching may be very different from what parents are accustomed to.

"I remember being terrified by the very upper–class parents of a darling British girl I was teaching. These parents turned out to be wonderfully supportive of my program and appreciated more than anything the fact that their daughter adored coming to school."—Pamela Campbell
Professional Realm
Overseas schools are great places for the dedicated educator. Classes are small, so you have the ability to give each student individual attention. Many students come from the families of diplomats; most of them have lived in several countries and speak more than one language. A lot of parents come from wealthier classes, with an above average level of education. Consequently, their expectations are high and most of them become involved with the school life. You will learn a lot from your students, maybe even more than they will learn from you!

Each child brings a different set of values and orientations. Many have lived in many different countries and speak several languages. Their parents work in international companies or have diplomatic positions and set high academic standards for their children. These students tend to be high-motivated and well-disciplined.—Ann Bradley
To sum it up, look for an international school that offers:
Creative teaching environment

Motivated students

Educated parents who care

Small class sizes

Superb educational environment

Full administrative support

Close warm relationships with colleagues, parents, the expat community in general

Ability to employ your program

Participation in international education events held in major world capitals

Building a network around the world that you can use to secure employment in the future

Integration in the overseas teaching and expat community

Rich cultural environments bring learning to life.

As a social studies and language arts teacher I used my surroundings as a source of lesson planning. While studying the Roman Empire, we read Julius Caesar and visited a town with the ruins of a Roman amphitheater and forum. While studying Japan, a Japanese student taught the class a lesson on the Japanese tea ceremony. —Anne Bradley
Social Realm
Essentially, the social realm boils down to: Discovering a whole new social layer of people such as diplomats, businessmen, bankers, journalists, etc. Meeting new people of different cultures and backgrounds including expats. For singles – an abundance of easy ways to start new relationships with a variety of people, both from your country and foreign nationals. For couples – many new fashions to revitalize relationships through new experiences. For couples with children, a variety of ways to broaden your children's education by exposing them to new cultures, languages, customs and traditions.
Personal Realm
Again, you will have a unique experience but this is what you should expect:
Meeting unusual people

Learning foreign cultures

Exploring world history on site

Sightseeing famous places

Understanding new customs and traditions

Looking into new foods and wines, indulging your gastronomic urges

Bargain hunting, shopping

Visiting world famous museums, exploring cultural heritage
Self Esteem Boost

Integration into a new environment, meeting new people and coping with inevitable challenges will increase your self-esteem. You feel a much more capable person, strong and independent. You are confident with everybody, as your overseas experience has taught you to never put anyone above your shoulders.
"One reason why teachers teach overseas is often overlooked, however, because it has nothing to do directly with the new environment. But many teachers have found that on their return, they have acquired a new perspective on themselves and on the country from which they came, and that they understand and relate to people and issues that before did not seem relevant. This in turn has the potential to open up new opportunities for personal growth. There are many stories of teachers who have branched out in new directions on their return from an overseas assignment."
We, for example, felt so overwhelmed with impressions and ideas that writing a book and making a Joyjobs.com website was the most natural thing to do. Neither of us had thought about it before.
Start Your Life Anew!
Oh, that feeling of a fresh wind in your sails! Because nobody knows anything about your past you are free to define yourself to your new community in any way you want. If you feel like there are things you should leave behind in your life, going overseas is an easy way to accomplish this transition.
Relationships and Marriage
It is no wonder that many people get married overseas. As the North American culture is becoming more and more homogeneous in the ways men and women interact with each other, many people rediscover the attraction of traditional values still present in many foreign countries. We have worked with many multinational families with parents of every possible combination (e.g. France – New Zealand, Syria – USA, Germany – England, Japan – UK, etc. etc.) while their children attended the same international school.
Financial Realm
People who never lived overseas always compare incomes in sheer dollar value. "What is my salary?" is the most frequent question. Because of the benefits, favorable tax policies and other advantages, such as free transportation, housing, utilities, etc. you are actually making up to 30–50 percent more than the same salary at home. To go home would mean a return to a much more modest lifestyle.
Teaching salaries may range from a low of $20,000 to a high of $110,000 annually. Administrative salaries may range from $35,000 to over $175,000 annually. The cost of living in the host country, the size of the school, and the isolation of the location are among factors affecting salaries.
The Time Perspective
Most beginners focus exclusively on the immediate goal of getting a job, as soon as possible. It pays, however, to look at your situation in a long–term perspective. – What do I want to be in 2–3–5 years? Setting goals gives you a sense of purpose. It is important, especially at the first step when the initial culture shock can be quite painful. A vision of where you are heading to helps a lot!
Culture shock
The world has changed dramatically in the past 15 years. New countries have emerged. Whole new cities have been built!
For many people, the culture shock starts with a simple discovery that many countries have superior transportation systems, more efficient customer services, better communications, great food, friendly people, and low crime rates (as well as beer and condom vending machines!)
Make friends. People are usually friendly and supportive once you get to know each other a little better. This is the best remedy as far as culture shock is concerned.
Don't go overseas on a short-term contract
It takes time to get adjusted. If you want to enjoy your time abroad – stay in a foreign country at least two years. You will understand these advantages later; just trust us for now.
Appreciate differences

If everyone is thinking alike, then somebody is not thinking.
—George S. Patton
By being perceptive and courteous you will gain an immediate respect from your community and your attitude will distinguish you in a positive way from those who criticize. When see something that makes no sense to you – do not assume that you and your country are superior because you do it differently. Life is generally more complex that what lies on the surface.
Substantial cultural differences exist. What is cool in your culture may be very uncool in a foreign culture. Do not take your own ways for granted. Surprisingly, what you may dislike initially often becomes the favorite part of your whole foreign experience.
For example, using cash instead of plastic may be inconvenient until you discover the beauty of debt-free living and personal privacy.
Finally, avoid arrogance. According to Robert Barlas of Search Associates, this is the best advice of all.
Be in Control

Confidence is preparation. Everything else is beyond our control.
—Richard Klinke
– OK, I am ready to start my search. How do I begin?
You will find the answers in the following chapters... We have left no stone unturned... The best way to get in the cutting edge of international recruiting is to simply read this program, from front to back.
By all means use our online services that come as part of this Guide. It is not rocket science; in fact, it is very "do-able".
Now that you know where we are going, let the journey begin!
To continue:
Your employment options (click to expand)
Know your employer
A lot of people believe that teaching abroad equals teaching English to foreign nationals. This is not so. Teachers of all subject areas and all levels are hired every year: math, science, PE, art, music, drama, social studies, French, Spanish, etc. In fact, all the K-12 subject areas are in demand.
There are also jobs for school administrators, librarians, counselors, PE, music and art teachers, school psychologists and other occupations.
This Guide focuses on the first group: the employment opportunities for K12 teachers and administrators.
In most European, Asian and Latin American countries you will find the following opportunities:

Mainstream K-12 International schools (American, British, Canadian, etc.)

Proprietary international schools, exchange programs and international sections

Christian International schools and colleges

Military: DoDEA (US) and MoD (UK) Schools

Commercial academies, after-school English programs and cram schools

Many new candidates start their job search in the same manner as if they were looking for a travel package, by selecting a destination country. This is a typical mistake that keeps them grounded. Keep geography in mind, but do not allow it to dictate your choices.

First jobs, then countries
Since good jobs are always in short supply and the market is fairly small you need to focus on the TEACHING part. Go after a job, not country! There are only a few international schools in every country so the number of vacancies is limited, too. On a given recruiting season there may be 100-150 options for one subject area, say, Middle School Social Studies. Now, supposing you selected only one country. How many shots would you have? Depending on the location, from 10 to 1. However, most new candidates apply to the same few overcrowded places, your real chances would be much worse, should your follow their path! Let your competitors elbow their way in this fruitless direction.
(Later, we will also show you how to do a targeted job search, using your personal website as a recruitment tool.)
One important note: it is essential to remain open-minded. Once you started your search, it is usually common that all sorts of unexpected opportunities develop. New names pop up, new destinations materialize, new offers are presented. Be prepared to accept these changes.

Your target: K-12 international schools worldwide (mainstream)
The majority of these schools are accredited by independent international organizations, and this is good news for you. Here's why.
Diplomats and business people often move from one country to another. They require that various international schools have the same educational standards regardless of the location. An independent accreditation ensures that the school adheres to these requirements. Accreditations must be renewed periodically. Your school may lose its accredited status due to internal problems.
Don't be fooled by fancy names. As private enterprises, schools can assume any names. E.g.The British American International College and Kindergarten of Human Science, blah - blah.
Names do not mean anything. You must verify the school's accreditation in the first instance. All unhappy feedback comes from those who did not do their research
Checking the school's website is not sufficient.
Steven Pressfield, Tip #7:
Just start. In the end, all the tips in the world won't make as much a difference as this simple (and timeless) instruction. Just sit down and start.
Feel Resistance to doing that? There's no way to overcome it than to just start.
Reading more about Resistance won't help. Going to an online Procrastinator's Forum won't help. Working on your to-do lists won't help. Only doing actually helps. And the only way to do something is to just start.
So how do you start, when you feel resistance? You just start.

Self-evaluation checklist (+)
Preliminary Self-Evaluation
"What are my chances?"
The biggest mistake would be getting a job that is below your skill level. Unfortunately, it's not uncommon. Even if the pay is good, you are going to be bored and demotivated very soon!
Look for jobs that require better qualifications and more experience than you currently have. This will provide you with a professional challenge and improve your self-esteem. It will also pay more.

Ideally, the candidates that offer more – get more. In real life, however, it all depends on your access to the recruitment information, and how well you use it.
Many superior candidates never realize their potential because they do not apply. Self-doubt and other concerns keep them anchored. Others have insufficient recruitment information which also reduces their choices.
As a result, it is common for less qualified teachers to be recruited. Proactive candidates multiply their chances at the expense of those who procrastinate as well as those do not know all their options.
In the tug of war of the recruiting process both the recruiters and the candidates are trying to get the most blanket. Neither the schools nor the teachers always get what they want, it's always a compromise.
The schools tap into talent by offering the best working conditions and compensation packages. The teachers tap into the market by offering the best professional skills and personal qualities. It's a classic supply and demand equation.
Self-assessment
There are two realms: personal and professional. Attention! International recruitment relies heavily on the personal realm.
You do not need to know a foreign language. However, being cultural sensitive and open-minded is a must. Those with a strong cultural bias should not apply. If you are dependent on a particular lifestyle, teaching overseas may not be for you. Likewise, inflexible individuals who insist on one way of doing things should stay away from this opportunity.
What does the personal realm consist of?
Your school will have to take into the account the following:
Citizenship(s)

Marital Status

Dependents - children, spouses

Character

Criminal record verification

Native language

Sense of humor

Flexibility

Health

Age
There is no way to escape these personal questions when you apply for international jobs.
First of all, schools need this information to determine if you are eligible for a work visa. For example, many countries have age limits. Others require that teaching couples be legally married, and so on.
Secondly, recruiters have personal preferences and concerns. Here's why.
Replacing an overseas hire in the middle of a school year is a messy business. Schools want to make sure that you are an emotionally stable, responsible and dependable individual, who has no secret agendas and personal problems.
Every school director has some kind of bad experience when they made the wrong hiring decision (such as not checking the sex-offenders registry) and had to pay dearly for it. So be prepared for some scrutiny on a personal level.

The typical situations covered in the program:
Singles:

Multiplying your chances as a single candidate
Best routes for singles

Teaching Teams:

The advantages of a teaching coupe
Best time to apply as a couple
Joint recruitment

Overcoming obstacles:

Non-teaching spouses
Dependent children
Dealing with the age bias
Debt / past problems
Little / no experience


Professional self-evaluation covered in the program:

K-12 Jobs: Who are the alfa dogs?
The top level skills, most in demand

Your teaching credentials
Not all qualifications are equal

What subject areas are in demand?
Some recent shifts in the curricula

References / support files
What to pay attention to and what not to worry about

A test by Dr.. Robert Kohls: How Do I Measure Up?
Take this simple test to calculate your score

"Neither you nor the world knows what you can do until you have tried."—Ralph Waldo Emerson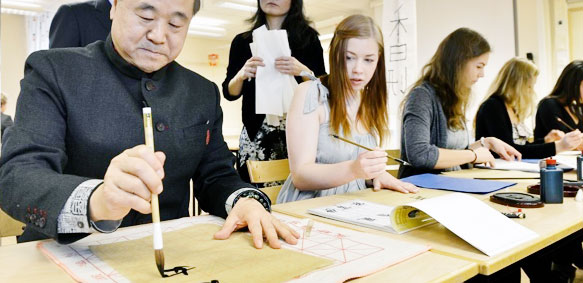 Your Application Package (+)
Your Marketing Package: load the ammo!
"Fight fair, but avoid fair fights." —John Czepiel
It may seem unfair that many less-qualified teachers are recruited. But the fact is that even most superior qualifications are of little use if you do not market yourself.
It's all about being proactive. You must also direct your efforts in a meaningful way.
The Concept
The guerrilla capitalizes on the 20/80 rule: 20 percent of effort brings 80 percent of result.
Oftentimes it means leaving the beaten path to explore a different route. Like a knockout blow in a boxing match, a successful job-hunting session is quick – from 2 to 3 days of which only one or two hours are essential. However, before that, there is a lot of preparation involved.
Optimize your application
From the guerrilla viewpoint only the following aspects matter:
1) The potential employers – the schools where you have real chances. (Eliminate those you are not eligible for. For example, it makes no sense for US teachers to apply to UK's MoD schools. Likewise, British teachers are not eligible for the jobs offered by America's DoDEA schools.)
2) Your strongest teaching areas. Many teachers have to make a choice by eliminating the weakest links, e.g. English / History / Music / Drama / French, to concentrate on their best assets, e.g.--> English and Drama.
3) Geography preferences.
Most of your competition will start and finish on point 3, entertaining their favorite places.
You may EXCLUDE some countries from your list but otherwise keep your doors open.
The M.P.
You attract the recruiters with your Marketing Package. To target-deliver it you are going to need your own personal recruitment webpage.
Luckily for you, we have been designing them for over 15 years, so you are in good hands.
Your webpage is the bait. It is designed to provide some evidence of your professional and personal credibility. The main idea to communicate is as follows: "I have been successful in the past. I will repeat this success in the future."
The immediate purpose of your webpage is to generate hot leads. (Covered in the next Chapter.)
Question. "How do you make me look cutting edge?"
The answer. We are going to build a modern recruitment webpage for you! Its initial function is to grab the employer's attention. To achieve it, it includes the following parts:

• Your Summary and photo (the grabber).
• Your CV/resume and testimonials (credibility).
This structure allows you promote your talents in a most effective way. The right presentation of your summary, photo, resume and testimonials will glue the employer to the screen.
For the bait to work, your page has to be brief. Do not overload it with details (the most common mistake.)
A good webpage upgrades you to the level of superior candidate. Its impact is twofold – you project a strong image to the recruiter (sell yourself) and at the same time it gives you the confidence that is often the winning factor in a job search.
Removing obstructions
The idea behind a powerful webpage is that of subtraction, rather than addition. Your main focus is on removing obstructions. This is akin to the concept of Qi in the eastern philosophy (a natural flow of energy.)
The majority of our candidates have all the necessary qualifications. What they lack is focus and structure. Most of us also need external help in understanding what holds us back - our brain is not wired to give us a true picture.
In short, to realize your potential, remove the existing obstacles and channel your Qi (energy) in the proper direction! Below are a few examples.
Misdirected focus
A lot of narratives we receive emphasize the candidate's experience in teaching children from illiterate immigrant families or inner city kids in America. These candidates presume that international schools cater to the needs of the poor and underprivileged people in foreign countries.
In fact, the opposite is true: most international schools enroll students from upper class families, as well as wealthy expatriate circles, diplomatic and business communities. Thus these candidates miss their target entirely. Schools discard thousands of such applications every year and their senders may never know why.
Eliminating visual mismatch
Imagine a typical international school with a dress code, where students wear uniforms. Teachers are required to look professional as well. For men, it usually means a tie. (Parents hate it when they can't tell a teacher from a janitor.)
If your application photo features a casual look, it becomes a visual discord. Few obstructions are decisive on their own merits, but they add up.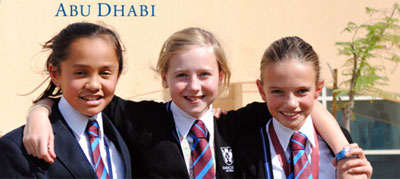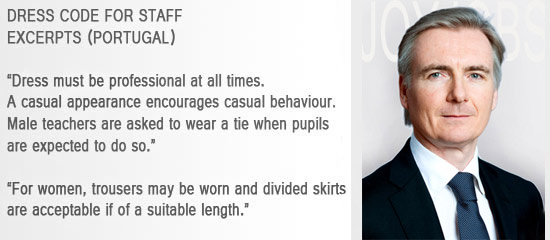 Even though many international schools do not have a formal dress code, your recruitment chances are statistically greater if you sport classic businesses attire. This is especially true for young teachers and inexperienced candidates. As Oscar Wilde put it, "You can never be overdressed or overeducated."
Cutting dead weight
Perhaps instinctively, people rely on the power of volume, adding all kind of info: university transcripts, letters of reference, diplomas, certificates, etc., etc. Piling up stuff is like overeating: after a certain level the amount cannot be digested and begins to hurt you.
Above all, your application must be lean and easy to digest. Edit it for brevity and then reduce the volume once again. Lean is in.
Avoiding self-praise
"I am highly organized, efficient, professional, ethical, enthusiastic, and excel at problem-solving and critical thinking and analysis."
This only makes recruiters yawn and move on to the next candidate. Nobody has ever written, "I am lazy and inefficient." However, every school has such teachers, and recruiters are not stupid!
Leave all assessment and praise for your testimonials section.
Image optimization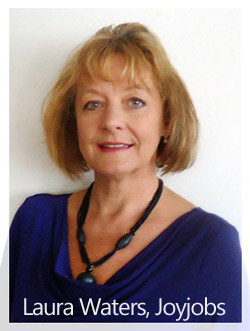 Modern recruitment relies heavily on your online visual presentation. Many people do not realize how important their images are, when they submit blurred cell phone snaps. It's like showing up for a job interview wearing shabby clothes and having a body odor.
You do not need professional equipment to take effective pictures. What is required: good light, professional attire, a clean background and any decent camera. We Photoshop all submissions for color, size and skin imperfections. However, your file must be of a good technical quality to allow such work!
Leave phone selfies for your competition. Nothing ruins an impression quicker than a poor personal presentation! Have you pictures taken with a real camera. We'll make you look like a magazine cover.
Generate Hot Leads (+)
Generate Hot Leads!
"Even if you are on the right track you'll get run over if you just sit there." —Will Rogers
It is the numbers game. The more exposure you get the more chances you have. If you only receive leads from the newsletter, you are not a contender yet. Get serious! You need access to all available opportunities.
Size matters. Large applications fail! And this is what most people do, making it a typical mistake. Send only teasers — short notes with an attention-catching subject and your web address! Your webpage takes care of your presentation.

Responding to job ads
"Luck is when opportunity knocks and you answer."
––Anonymous
You may be surprised if you compare the real people with the job ads that got them hired.
No school will ever say, "We hire inexperienced teachers with minimal credentials." It's just the opposite: schools love to pile up requirements. In real life, however, all sorts of teachers get hired. If you are at the right place at the right time – you WILL get a job. Everything is relative and almost everything can be negotiated at some point.
Open the Vacancy Logs and click on the Current. This is where the most recent jobs are posted.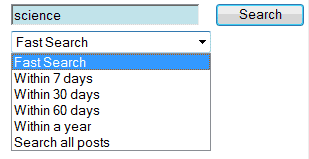 Enter your subject area in the Search box to narrow down your options, e.g. Science.
You can also search for locations, for example, Japan. When you click on the Search button, a list of matching vacancies is displayed.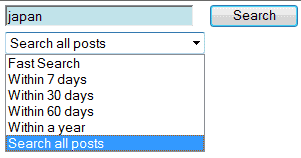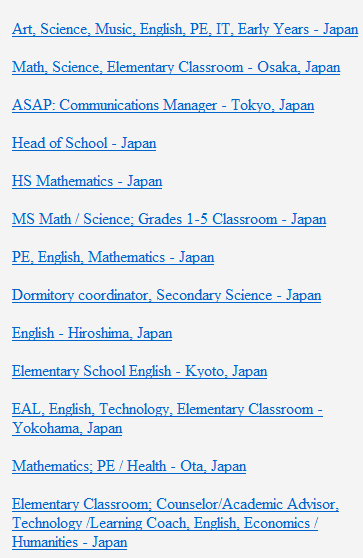 The search button finds matching headers, also known as leads. To see the details, such as contact information, job specifics and application deadlines, click on a header. Now you are ready to go. The next step is to apply.
Cut deadweight
A lot of applications that we receive are seriously overweight. Write a one-paragraph personal note to the school director. Instead of the usual file attachments, paste your web link (the webpage we made for you.)
If you are attending a job fair, indicate the location right on top of your webpage, e.g. Search Associates - London. This moves you a notch up the pecking order as a serious candidate.
As a final sentence in your application, ask for a job interview. (That's why your page has a Skype link!)
Do not expect an immediate job offer in response to your initial application (unless it's an urgent vacancy!) The usual process involves some communication. Your immediate goal is to get shortlisted. As a shortlisted candidate you will have access to the school's internal data, and an interview will follow.
Speculative applications
Since most overseas contract are for 2-3 years, all positions re-open. That's why we maintain the archives. Use previously filled vacancies to apply speculatively for the next recruiting cycle.

The Schools Directory is yet another tool. Scroll the schools and countries to make your personal shortlist. Make it a rule to always include a few unusual and unknown locations in your applications. Because you never know!
Your timeline
Although the most common mistake is to begin too late, applying too early is equally ineffective. Your chances are much better if you follow the proper timeline. Covered in this section:
The classic timeline, step-by-step

The accelerated schedule

Catching up with last-minute jobs

Southern hemisphere (reversed calendars)
Finally, double check your webpage for bulk / redundancy. Schools view lots of applications. It's clarity that is most in demand!
Interviews / Job Fairs / Skype (+)
The Interview
"It is dangerous to be sincere unless you are also stupid."
—George Bernard Shaw
You are doing great if you have gone as far as a job interview. Now, do not screw up everything at the last moment!
Many candidates take themselves very seriously and carry their wants and needs as a flag. If your ambition is to bring the employer into submission by playing hardball you are reading the wrong book. But you can have a big influence on your interviewer by understanding human nature.

In recruiter's own words:
"What am I looking for? I know you are going to be nervous so don't worry about that. I'm making a snap judgment on your character. Do you get right to the point or do you beat around the bush for a long time.
What I'm basically going to do is ask you a couple of questions —be honest and straight. You might think you are smart and can talk your way into a job, but don't believe it for a minute."
The last sentence is a manifestation of the recruiter's ego, his weakest link. The truth is, you can outsmart your recruiter. In fact, it happens all the time. How? Play to their ego.
The guerrilla keeps her wants and needs in mind; however, to achieve her ambition, she has to focus the recruiter's human nature: his fear of failure, a need to be liked and the desire for power (authority).
Matching personalities
Some candidates think, "I have a lot of experience, excellent qualifications and great references. This is all I need to get this job." WRONG!
The interviewer is looking not only for proper qualifications, but also for compatible personalities, to make sure you won't be a problem to get along with for the next two or three years. The personal aspect is extremely important, especially in small schools.
The secrets of successful interviewing

Let us get right to the point. The secret of a successful job interview is not in how you answer questions. Answering implies a passive attitude and it is never in your favor. You have to have a completely different approach!
Active interviewing
Active interviewing implies that you know how to influence the recruiter in order to achieve your goal.
The 20 Essential Tips
An excerpt, #17: Optimize your body language.
Your body language must compliment, not contradict your verbal message. Many candidates are rejected because they continuously cross their legs, rub their chin and nose and act as if they have an itch.
Above all, do not cover your mouth; this is a sign for lying. It is imperative to keep your hands away from your face at all times!

The above screenshots of the Grand Jury testimony demonstrate how President Clinton's body language undermines the credibility of his words.
On eye contact
In mainstream Western culture, we are taught that we should "look people in the eye". However, in many cultures including Hispanic, Asian and Middle Eastern, eye contact is thought to be disrespectful or rude, and lack of eye contact does not mean that a person is insincere or disinterested. And there are many other cultural incongruities. What should you do?
The mirror trick
To avoid any cultural faux pas, the most effective communication style is to mirror your partners' body language. For example, if they lean forward, lean forward as well. If they cross their leg, do the same. Likewise, accept their speech patterns (tempo and pitch). If they are loud, speak up. In other words, match their mannerisms.
Avoiding the common traps (4 killer mistakes)
An excerpt, #1: A candidate talks too fast trying to say as much as possible in the shortest possible time.
The Questions
Most recruiters develop an interview pattern and stick to it. Many of them adhere to a certain idea which dominates their questioning. For example, the school may be preoccupied with team teaching. The interview will then be centered around this idea, to find out if you are going to fit into this role. Others focus on finding agreeable, easy going personalities who do not mind extra duties, and so on. To find out where the wind is blowing, allow your recruiter to take the lead.
Sometimes the interviewer asks an ambiguous question. If the question is unclear to you, don't be afraid to ask the director to repeat it. Your ability not to rush will be noted as good thinking.
Professional questions. If your Application Package is good (your professional qualifications are clear and your references are lined up), the interviewer may skip this part altogether. In fact, a lot of interviews are rather informal, with the goal to gauge you as a person.
Included are typical questions asked in an interview. Keep in mind that there are no right or wrong answers — there are only opinions.
Also included in the Guide:
Skype Interviews
A simple setup for a professional look without a studio.

The interview process.

Do's and don't's.
International Recruiting Conferences (IRCs) and Job Fairs
The major recruiting events around the word.

Selecting a job fair to maximize your investment.

Arrival, registration, orientation.

Day One.

Day Two.

Day Three.

How to motivate hesitant recruiters.

Handling multiple job offers.

Contracts: important things to check.


Visas / Relocation (+)
Visas and Relocation
"Dear Pam and Igor, please send me a phone number to order working visas. I'd like to pay with my Mastercard."

Unfortunately, it does not work this way; you can't order a visa like pizza! A visa is a permit to legally live and work in a foreign country. It's the government of the host country who is in charge of the 'invitations.'
Small countries that have no overseas consulates will allow you to arrive without a visa; you apply for your work permit locally. Your job contract is the legal basis to procure a work visa on the spot.
Big countries require that all paperwork be processed prior to your arrival.
Follow the directions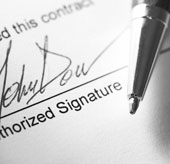 Typically, you will receive a contract by registered mail or DHL. In it, you will find the application forms and the list of necessary documents to submit with your application, such as your passport and a few pictures.
Many countries require a medical report, so you will be given a form for that, too. Take it to your physician to sign.
If there is no foreign consulate in your area, send the application by registered mail. You will receive it back with your processed visa within a couple weeks, provided no mistakes are made.
Some countries are picky and will return your application unprocessed for a minor error, so double check everything.
Costly errors to avoid
Your social security number will not be used. Your name is your identity, so pay attention.
The name in your passport must match the name in your job contract. Any inconsistency will render your visa application invalid, period.
This is a serious point to keep in mind, especially if you changed your name recently or if you go by a different name than your legal name. Only legal names are valid and they must be exactly the same in your job contract and your passport. Ditto for the date of birth. (The international date format is Day / Month / Year. )
When you receive your visa, verify that everything is spelled correctly. You don't want to be detained at the border just for a typo.
If the consulate is within a driving distance, apply in person.
Depending on the country your experience will vary. Japan, for example, being a highly efficient society, makes everything easy for you. Other nations may be less efficient.
Here's the Consulate General of Japan in Portland Oregon, where our visas were issued.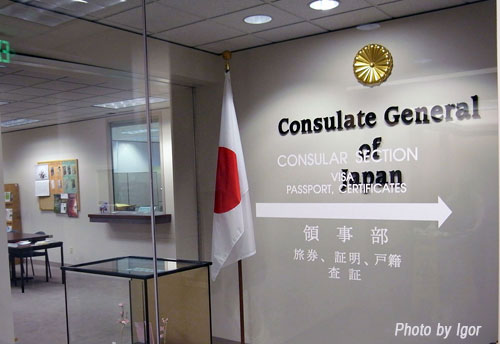 Tip: Refuse third-party commercial solicitations. No private agency has authority to issue job visas. It's strictly a government job.

Step by step:

Your school sends your job contract and visa application directions.

Fill out the form, prepare 2 photos, a medical report, and your passport.

Submit the application and passport to the consulate in person or by mail.

The consulate returns your passport / visa package. You are good to go.

Upon arrival, you are issued a foreign residency card. It allows you to open a foreign bank account, rent property, use foreign health services and so on. You are all set!
Arrival
A school representative will pick you up at the airport. For a few weeks, you will be placed in a rental apartment or a hotel suit, free of charge. Meanwhile, you will find something more permanent. Unless your schools provide its own housing, in which case it's all taken care of from the start. It is more common to receive a housing allowance or stipend. The school office will then provide you with the information on available rental properties and connect you with the landlords.
Money Tips

In Europe and Asia, it is beneficial to be paid in the local currency. While in Japan, we watched in amazement the steady decline of the US dollar against the Japanese Yen. Same for Europe, where the dollar has lost about 30% of its value. Here's some feedback from Prague, Czech Republic:
"When talking to staff you find out that the dollar has continually become weaker against the local currency and the local currency is over twice as strong as it was 10 years ago. The problem here is that we are paid in US dollars so we are making a little less each year. The school does not seem to want to pay us in Czech Krona or Euros!"
If you are in one of these locations, and if this option is available —insist on being paid in the local currency when you sign your contract. In weaker economies, stay with the US dollar.
Tax
For US citizens, $97,600 of foreign earned income (even more next year!) is not subject to income tax. Technically, you are still supposed to file your tax return. However, many people never file and we have never heard of any problems with the IRS because of this.
Metric units
The rest of the world including England has long switched to the modern metric system. Our advice is start thinking in grams, meters, liters and degrees Celsius.
Cultural Phenomena
What is the best way of interacting with the local culture once you get there? A good way to begin is by foot. Walk every corner of your new home, stopping at the places that look interesting. Stop for coffee or tea, step into the gardens, parks, churches, grocery stores. Take notes if you have to!
In Sofia, for example, our "facial lady" Eva and our massage therapist (whom we became good friends with and now lives with his family in Kuwait) were both located at the big sports hall. Is there a swimming pool? Sauna? Also check at some of the large hotels as they also might have sports facilities worth investigating. Learn if there are any spas or mineral baths in town and treat yourself regularly. Barbers, hair stylists and manicurists can also be wonderful ways to learn about the place.
You will have many unforgettable experiences overseas, some, of course, more poignant than others. We guarantee you that your life will change.
There is certainly a heightened sense of needing to latch onto something familiar, and so people connect a lot quicker and on a much deeper level.
Thank you and have a great trip!
—Pam and Igor