How to apply
1. Login to the members' - click on Vacancies and run a job search. For example, enter "science" in the search box: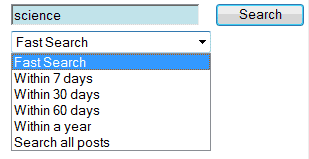 (screenshot)
2. The search results will show in the left-hand panel.
Click on any of them to display the details, links and application directions on the right: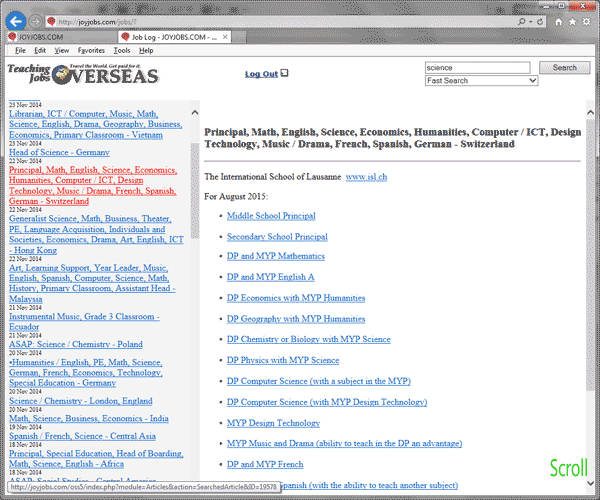 (screenshot)

3. Use the provided contact information to submit your application. Most positions include deadlines, so pay attention!
For best results, have us design your Application pack first!


Make sure to go through this checklist. Every one of these points can make or break your application.

The email subject: state the position you are applying for. Be clear about it. Many applications never get opened because they fail to follow this basic rule.


Get to the point right away. Say who you are, what you teach, and when you want to start. Include your webpage link, e.g. "Click to view my photo, resume and references: http://joyjobs.com/cvs/bakersample.htm "


Don't waste time explaining how you found out about the job. Do not go into any details in your initial inquiry!

Use the school's verbiage. Customize every application to match a particular job description.
For example, if your prospect school employs the term ELL, or English Language Learner, use ELL in your cover letter as well. (With other schools, it will be ESL, TESOL, EFL, Learner Support, Reading, English, Literacy, etc. — change your cover letter accordingly.)


Quash redundancy. Don't paste a copy of your cover letter on your webpage. It annoys the recruiters and you waste the precious space on top of the page.

Eliminate attachments. Nobody likes attached files: they slow down the work flow. Attachments are also the source of viruses and spyware.
The worst annoyance: receiving plain text as an attachment (e.g. references) when it could have been included in the body of the email!

For best results, apply with your website!
To have your website made, send us the following:
Your CV/resume and photo*

Your summary and teaching philosophy**

Testimonials (quotes)

* Please see the samples and directions on the members area
** Samples are provided

Respect your recipient's time! Large messages are not only rude (you lay big claims on the recruiter's time), but also counterproductive.

Resist the temptation to add stuff! The absolutely worst situation is when a candidate sends four long paragraphs of turgid text followed by "Thoughts?"

Use meaningful filenames.
Compare: Johnson_Physics_CV.docx and My resume.docx


Refrain from sending generic copies. Schools ask in plain English, "Explain why you want to work here and how you can contribute." The only way to get the recruiter's attention is to respond personally.

Praise is what your testimonials are for. Avoid unsubstantiated self-accolades.
Swing into action!

Music teachers, art educators, non-native speakers, teachers of foreign languages, science, PE, self-contained classroom practitioners as well as many other applicants will benefit from

videos and slideshows!
The basic rules: make it brief, make it to the point, and turn down the background music.